The cleanest your
records will ever be.

Discover how The Vinyl Archivist can bring out the fullest sonic potential in
your records through enzymatic and ultrasonic cleaning.
---

See the difference before you hear it
Every record, even if it looks clean, is likely soiled with a wide range of contaminants including dust, mold and mildew. Vinyl discs are also coated with sticky mold-release compounds during manufacturing. These contaminants stand between the groove and stylus, causing abrasive mistracking, resulting in unnecessary, excessive wear to both record and stylus. By interfering with proper groove tracing, dirty records produce inaccurate, noisy sound.
Proper cleaning of your records not only preserves playback, but the investment you have made in your equipment as well.
Before and after 400X microscope images of an ultrasonically cleaned LP
Click on the arrows to scroll through slides
Why clean brand new records?
New records have a coating applied to the vinyl often referred to as a mold release agent. This compound is used in the record pressing plant to separate the metal stampers from the vinyl (think of cooking with oil in a pan). When the compound dries it leaves a sticky film that produces noise during playback. Small airborne particles in the record factory will stick in the grooves producing noise even on brand new records. The stylus will pick up some of this sticky gunk and affect the playback of your other records as well.
An ultrasonic cleaning is perfect for removing the mold release agent and leaving your new records as minty fresh as you thought you were getting when you unsealed the sleeve. It will also eliminate the static cling that comes with most new records and attracts additional airborne particles.
Click on the arrows to scroll through slides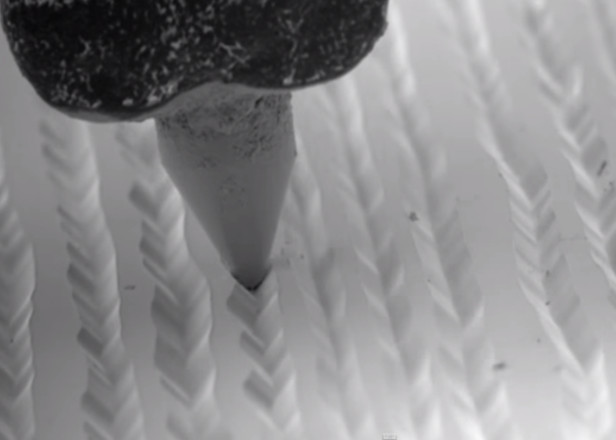 Preserve Your Equipment
Dirt, dust and grime in your record grooves doesn't just wear out the record sooner – it adds unnecessary wear to your stylus. Pops and clicks can be caused by the stylus coming into contact with particles in the grooves obstructing the path. This causes wear to both the record and the stylus tip.
Proper cleaning of your records not only preserves playback, but the investment you have made in your equipment as well.
Click on the arrows to scroll through slides
Archive Your Sleeves
Your records sleeves are valuable outside of just housing your vinyl – many are works of art themselves or textual artifacts that tell the story behind the music. Don't let dirty or damaged sleeves lessen the value of your records.
Proper archival cleaning and storage of your record sleeves can help prevent ringwear, splits, and remove decades old grime on vintage sleeves.
See cleaning and storage options available
Click on the arrows to scroll through slides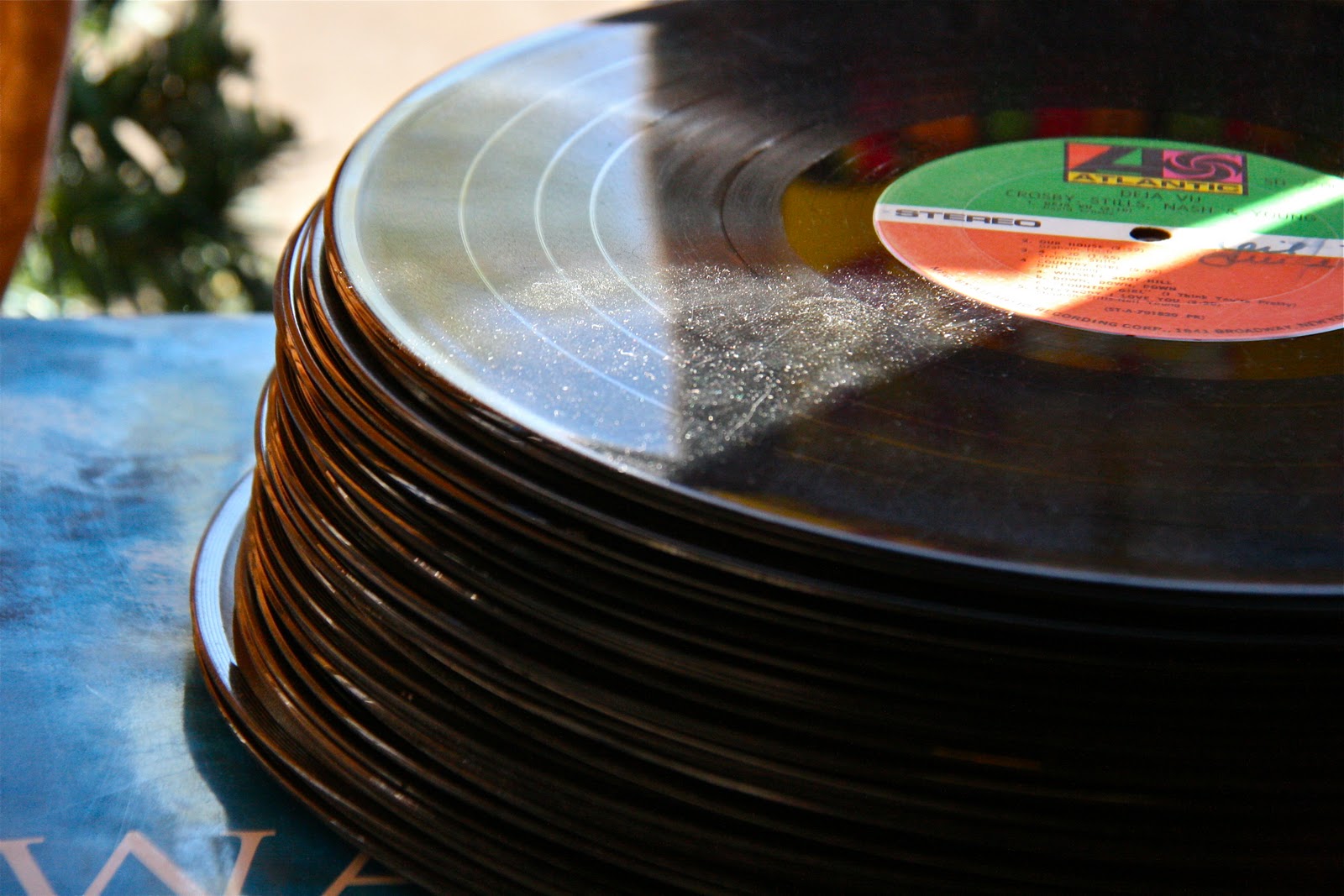 Volume Discounts
I am confident that once you see and hear what a proper cleaning can do for your records, you will want to clean the rest of your collection. With the custom designed shipping boxes that I offer it is convenient and simple to send a large quantity of records for cleaning.
Take advantage of the rolling series of discounts I offer for large orders. Visit the Services & Pricing page for specifics.
Click on the arrows to scroll through slides
---
How does it work?
I believe in an individualized approach to every client's cleaning needs as all records are not created equal, nor are they equally dirty. Send me an e-mail or a message through the Contact / Order page to begin a personalized consultation, and we can work to determine what kind of a cleaning will best suit your needs. I strive to provide a singular service to each of my customers.
How is an order placed? After we determine the cleaning method, I will send you an invoice. Then you pack your records and ship them to me for cleaning. It's as simple as that!
I also provide detailed instructions on safe packaging and shipping, or you can purchase one of my custom built shipping boxes and take away any possible guesswork.
For a more detailed look at what I do and what The Vinyl Archivist services are all about, please read below and explore the pages on the site.
Mike/The Vinyl Archivist thinks about cleaning and preserving vinyl with the same care and enthusiasm you have for collecting vinyl. When you send him records, you can feel confident that they will return in a manner where every ounce of potential sonic depth has been extracted. Even the return packaging is simply fantastic and completely protective.

Owner, PopShop Record Stop

I have a rare LP visually appearing to be EX, and despite multiple attempts of cleaning with other solutions and machines, the record always sounded more like a VG record. I became increasingly frustrated and brought the record to The Vinyl Archivist – now the LP sounds like it appears. I couldn't be more satisfied! Highly recommended!!!

"The records cleaned on the ultrasonic machine sound pretty great."
The Vinyl Archivist
First and foremost, I am a record collector. Records are my passion. Hand-in-hand with collecting I have become passionate about the proper cleaning and care of records to get the very best sound and the most enjoyment out of what I collect and listen to. I created The Vinyl Archivist with this in mind, to allow other like-minded collectors and vinyl aficionados affordable access to high-end cleaning techniques.
Record cleaning comes with a high barrier of entry. Cheaper methods such as Spin Clean or Nitty Gritty take a huge amount of time and effort to operate. Even entry level vacuum machines start around $500. Commercial ultrasonic machines, such as the Audio Desk Systeme tip the scales at $4,000 and are a major investment that the average person cannot afford, or would rather invest in buying music to listen to.
You can rely on The Vinyl Archivist to provide you with the best possible cleaning services while retaining your valuable time for doing what you really bought that turntable for – listening to your records. Take a look around the site and see what options are best for you. I provide standard plans, but will happily custom tailor any program to suit your needs and specifications.
For those new to ultrasonic record cleaning I offer a free trial to get you started. See the plans below and under the services page for more details.
Here's to many years of future listening enjoyment!
Why use The Vinyl Archivist?
Do you want the best possible sound quality from your records? I use the industry standard record cleaning machines from VPI and a custom built Ultrasonic cleaner for the best possible cleaning your vinyl can receive.
Whether your records are brand new or you are a crate digger that unearths gems with years of accumulated grime, even the best conventional cleaning methods cannot clean as thoroughly as ultrasonic cleaning which penetrates directly to the grooves of the vinyl.
This dust, dirt, mold and/or pressing residue stands in the way of optimal sonic reproduction. Now you can hear the music as it was intended!
Here is where I will include this one crucial caveat: a proper cleaning cannot perform miracles on damaged records. Pops, clicks and skips from physical damage such as scratches, wear to the grooves or pressing defects cannot be repaired. As long as your records are in good physical condition, I can virtually guarantee you will be happy with what a cleaning can do for them.
Listening to records is an experience akin to ritual. You have forsaken the convenience of digital music in return for an engrossing experience that demands your attention. Why not experience the true magic that clean vinyl can provide?
If you are interested in why I have come to this conclusion, read more about my personal path in the About section.
Follow The Vinyl Archivist on Instagram
Keep up to date with news and special offers, as well as some of the best cover art and labels that come across my desk.