About The Vinyl Archivist
The Vinyl Archivist is an outgrowth of years of record collecting combined with my professional background in the fine arts.
I came to record collecting after a decade of amassing a wall of CDs and tiring of digital music. As such, my formative years were spent listening to crisp, clear digital sound. I have become a bit of an audiophile since converting to analogue. For all the superior sound quality I have come to appreciate and crave with vinyl, the inherent surface noise was always a distraction. I quickly began researching the best ways to clean vinyl.
I started the old fashioned way – with plenty of elbow grease. Armed with a set of Disc Doctor brushes and cleaning fluid, I made my way through my burgeoning collection by hand. Weighing the cost of conventional cleaning machines against buying more records, I opted for a Record Doctor V, balancing vacuum power with familiar hand brushing. From there I eventually moved to a VPI.
Everything changed when I first saw the Audio Desk Systeme in action; then I heard the results. I was absolutely blown away by what a remarkable difference there was before and after. I thought that my rigorous cleaning regimen was the best that I was going to get. I was wrong. Having experienced these remarkable results I quickly began to research ultrasonic cleaning machines and was soon the proud owner of an Audio Desk.
After a few years of using the Audio Desk, I came across a number of discussions on audio message boards describing custom built machines that improved even further on the commercially available ultrasonic units. After about a year of research, I finally took the plunge and built my own, which you can read more about here.
The Vinyl Archivist was started to bring this superior level of cleaning to anyone who cares about their records. I am first and foremost a collector and look to provide a service I myself would use. I pride myself on my care and attention to detail and will treat your records as if they were my own.
About Me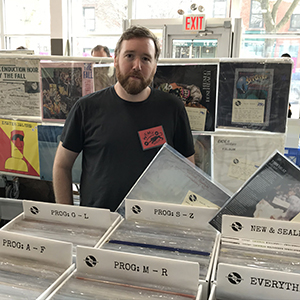 Hi, I'm Mike. I have spent the better part of a decade working in fine art galleries in New York as an archivist, preparator and registrar. My educational background includes a BA in Art History and a minor in Studio Art, and work in a campus museum. This training, as well as my previous employment in photography archives and studios has given me a strong background in the proper handling and care of delicate objects. It is unique that this experience translates so well into my passion for records and their care.
You already know that I am an inveterate record collector, but what do I actually collect you may ask? My tastes are wide and varied, but my collecting is concentrated on Progressive rock, Psych and Jazz-rock, especially from 1970s Europe. Follow me on Instagram and Facebook where I will often post what I'm listening to while cleaning records.
And when I'm not listening to records, my main interests include playing or watching soccer. One of these things I do much better than the other.
Mike/The Vinyl Archivist thinks about cleaning and preserving vinyl with the same care and enthusiasm you have for collecting vinyl. When you send him records, you can feel confident that they will return in a manner where every ounce of potential sonic depth has been extracted. Even the return packaging is simply fantastic and completely protective.

Owner, PopShop Record Stop

I have a rare LP visually appearing to be EX, and despite multiple attempts of cleaning with other solutions and machines, the record always sounded more like a VG record. I became increasingly frustrated and brought the record to The Vinyl Archivist – now the LP sounds like it appears. I couldn't be more satisfied! Highly recommended!!!

"The records cleaned on the ultrasonic machine sound pretty great."